ALP1025
Single side
Material:aluminium, fabric
Frame:10mm thickness
Application:retail display rack led shelf light led panel
Powerful LED Panels for your Business
Our LED panel is mostly used to light up interior business premises, create product display racks and shelves. These LED light panels can be a powerful tool for boosting sales in your retail space. The frames are made of sturdy aluminum with customizable colors. The colors are vibrant, and the energy savings and eco-friendly features are fantastic, meeting the government's energy conservation and environmental safety standards.
The Features and Benefits of Using Our LED Panel
Dual-sided lighting solution.

The

LED light bulbs

accomplish the purpose of reproducing natural light color design; the image becomes more vibrant and appealing, and the visual effect is enhanced.

They make your office space and products appear colorful and attractive

Utilize the backlight's material and propagation properties to the fullest extent possible; the light exposure rate is vibrant, and the light distribution is more uniform and normal.

The

LED panel

is easy to set up and maintain.

LED lights

are energy-efficient and bright; they comfortably outperform fluorescent bulbs.

Its adjustable brightness makes it suitable for a variety of business settings.

Customizable lighting color

Features a slim and durable profile measuring 10 to 16mm thick.

A sturdy aluminum frame with customizable colors.

The

LED light panel

is long-lasting; can last for more than 80,000 hours.
LED Panels Applications and Usage
Our LED light panels are suitable for constructing your retail display racks and shelves. You can also use them to light up building spaces or urban building sites, including shopping centers, shops, banks, department stores, hotels, airports, train stations, subways, docks, elevators, car parks, interior lighting, and wedding gown studios.
Conclusion
Many shoppers can overlook some retail stores because the competition outshines them. Our LED panel bridges this gap by implementing high brightness LEDs that evenly distribute bright light throughout your interior business premises or retail product racks. Kindly place your order now.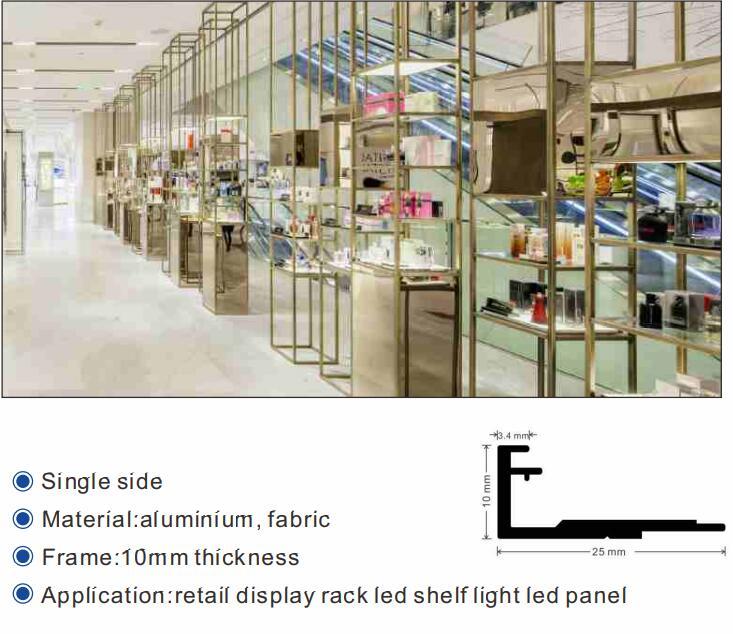 Contact with us Get Free Samples