Aluminium LED Light Box 2720(snap frames)
led light box display

Frame color: Anodized Silver or black

Aluminum Snap frame construction

Orientation: Portrait, landscape

Face: single side

Placement type: wall mounted or hanging

6400-9000°K Color Temperature available

LED Light Guide Panel bright and even light distribution

Long-life lamps ≥ 50,000 hours

High Quality LED Components

CE or UL listed

1.0mm thickness Poly-Carbonate plate
When choosing an aluminum lightbox, consider the environment where you have planned to install it. The light intensity, LED placement, and color temperature are three fundamental aspects that will change your customers' way of perceiving your graphics.
The LED panels can be customized according to your requirements. Here is a brief review of how these lighting factors have a long-lasting impact on your brand image.
Light Intensity:
The total light emitted from a LED diffuser panel and the LED light source's total surface area determines the light intensity. It is measured in lumens (lm). The lumen measurement in an aluminum lightbox, snap frame, and fabric lightbox is adjusted following frames' size.
LED light gives the desired intensity by consuming far less electricity than fluorescent light with the same intensity. The most commonly used intensity for LED lightboxes ranges from 2200 to 2800 lumen (standard output) and 4000 to 7000 lumen (high output).
Color Temperature:
The color temperature defines the tonal quality of the resulting lights. It also has a great impact on the appearance of your images. The color temperature is measured in Kelvin (K).
Warmer temperatures such as red are at the lower end of the Kelvin scale. The higher end of the scale features cooler tones such as blue.
The most commonly used color temperature for aluminum frames is 5500 – 6500 K. at this temperature, the light stimulates the daylight and appears whiter. You can also customize the color temperatures according to your marketing requirements.
LED Placement:
Most of the LED light boxes feature two standards LED placement options:
In edgelit configuration, the LED lights are installed on both sides of the LED lightbox. They have a standard output of 2200 lumens. Whereas the standard output in the Backlit LED light is 2800 lumens. You can choose from edgelit and backlit LED placement as per your project requirements.
For more information on LED lighting options, check with the manufacturer.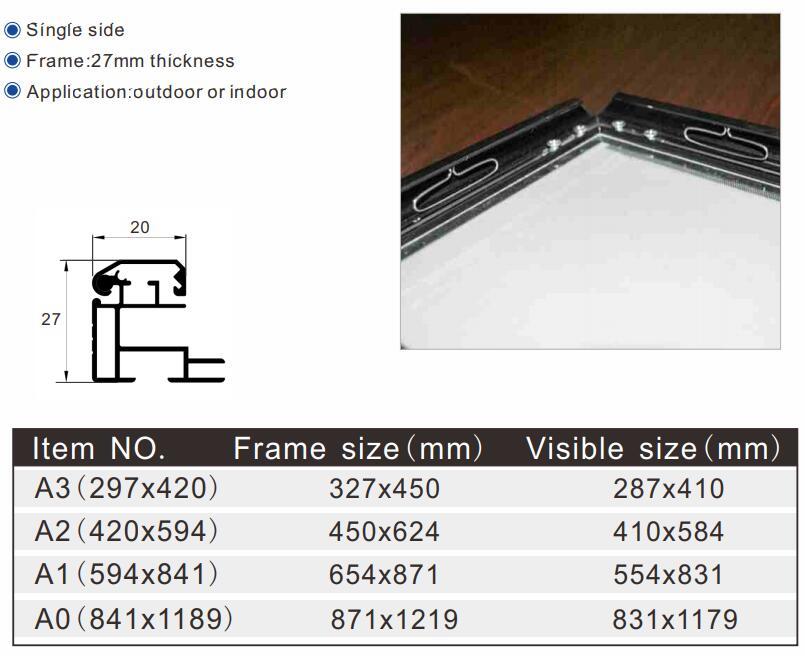 Contact with us Get Free Samples