Crystal LED Light Box CSA-4(advertising signage)
Single side
Magnetic
Material:acrylic
Thickness:10mm
Application: wall mount
LightBox Signage for Your Commercials
Luminous signage and lightboxes are an innovative and efficient way to identify and attract attention to your company 24 hours a day, seven days a week. Utilize lightbox signage on the outside of the enterprise to increase visibility from heavy traffic zones.
In buildings and counters, you can use small indoor signage to convey your brand identity. Outside, you can show your brand identity on logos, signs, and banners, as well as on t-shirts and trucks. Our lightboxes are usually made of acrylic or aluminum. The light boxes' displays are digitally printed on either opal acrylic or a translucent face front. They are available in single- or double-sided configurations. Additionally, we provide a variety of lighting choices for your lightbox.
The lightboxes are an incredibly versatile format that can be customized to your desired specifications. They feature illuminated digitally etched transparent images on acrylic or opal polycarbonate materials.
We can include lightboxes in various configurations, ranging from thin-edge lighting for store displays to double-sided under-awning lightboxes, wall-mounted light boxes, and adjustable surface lit billboards.
Different Types of Light Boxes
Single or double-sided graphics: The right option depends on the position of the sign. Graphics only appear on one side of the lightbox for single-sided, but on both sides for double-sided frames.
LED or Neon Backlit: Although neon signs have a spot in today's signage culture, they have been mostly replaced by LEDs. LED Lightbox signs usually have many inherent benefits over neon signs, including durability, adaptability, changeability, cost-effectiveness, and brightness.
Aluminum or Acrylic: Although the majority are a mixture of the two, they can be made entirely of either aluminum or acrylic signs.
Maintenance of lightboxes
Keep an eye out for signs of wear and tear, vandalism, weather-related disruption, and power outages. If you find any issues or harm to your sign, go for a repair immediately. That makes your signage to last longer.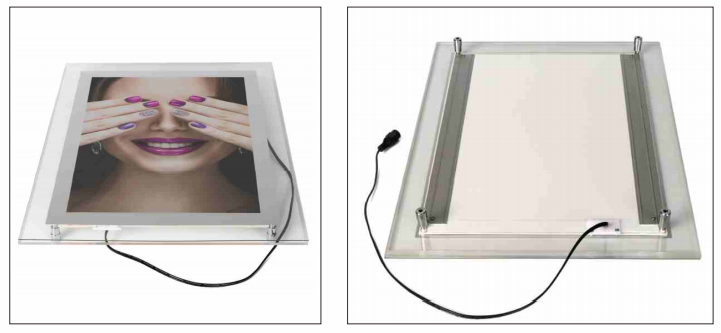 Contact with us Get Free Samples