Frameless Fabric Led Light Box 6030(led signage)
AL-6030
FRAMELESS FABRIC LED LIGHT BOX
Backlit light box fabric led light box display
Single side
Material:aluminium, fabric
Frame:60 mm thickness
Application:outdoor or indoor
Frameless Aluminum LED Light Box for Your Exhibitions
Our Frameless Aluminum Fabric LED lightbox is perfect for displaying your business promotions. It's catchy, draws buyers, and effectively promotes your brand. The frameless fabric lightbox is extremely sturdy with corrosion- and rust resistance. The single-sided design comes with a slim Aluminum frame construction that creates a sturdy, long-lasting fabric lightbox. It's easy to assemble, fix and replace the fabric.
Our Specifications
One-sided

fabric lightbox

meant to be installed on walls or hangers.

Waterproof UV printed fabric.

Comes with portable packaging.

The thickness of the frame: 30 mm.

Cover for light box: 80-100mm.

Anodized silver and personalized colors for the frame.

12V DC, LED Lighting.
Application of our Frameless LED Lightbox
Our frameless fabric LED lightbox is mostly used in interior decoration, department stores, corporate signs, retail parks, malls, airports, train stations, subways, banks, and bus stations, as well as major demonstration programs.
Benefits of the Fabric Lightbox
This

frameless aluminum fabric LED lightbox

is well-designed.

It has a simplistic form and a small footprint.

Exceptional standard.

Sturdy and attractive construction.

In addition to being smooth and shiny, the surface is waterproof and resistant to corrosion and rust.

Easy to install and maintain.

Eco-friendly components used in construction.

The LED lights featured are energy efficient, produce minimal heat, and delivers strong brightness.

The light distribution over the fabric is even and uniform.

Reasonable pricing.

This

Frameless Fabric LightBox

features a

lightweight aluminum

shell with a hook on the back for easy hanging.

It is suitable for outdoor advertising in malls, subways, grocery stores, and train stations.
Final Remarks
This product is available in a variety of configurations and can be tailored to your desired specifications. We provide you with professional designs and superior UV-printed fabric images. One of our best features is "one-stop shopping." We offer the strongest pre-and post-sale support. Contact us immediately lets us work together to make your marketing needs a reality.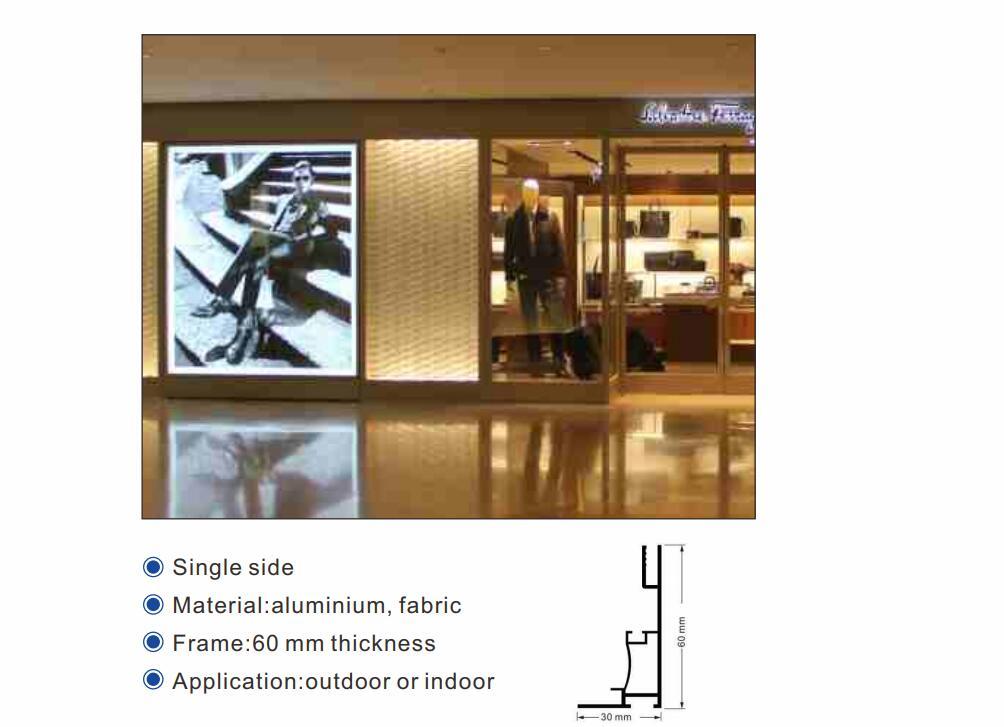 Contact with us Get Free Samples