Frameless Fabric Led Light Box 8025(led display)
AL-8025
FRAMELESS FABRIC LED LIGHT BOX
Backlit light box fabric led light box display
Single side/Double side
Material:aluminium, fabric
Frame:45 mm thickness
Application:outdoor or indoor
Aluminum Profile Fabric Light Box for Outdoor Ads-Visuals
The Light Box fabric aluminum profile is constructed with solid aluminum. The Aluminum Snap Frame Profile is extremely well-designed. It has a straightforward form and a small footprint. Not only is the surface sleek and reflective, but it is also waterproof and corrosion- and rust-resistant.
This product is available in various configurations, and we also provide customizations. The fabric surface displays stunning graphics and a high level of resistance to water. And our light source is an LED bulb, which has higher brightness and low power consumption. Most businesses consider the benefits of day and night. The colors are vibrant, and the energy savings exceed 70% compared to conventional lightboxes, meeting the government's energy conservation and environmental safety standards.
Usage and Application of Fabric Lightbox
This Fabric Aluminum Profile lightbox is suitable for any retail space or urban development location, including shopping centers, supermarkets, banks, department stores, hotels, airports, train stations, subways, docks, elevators, car parks, interior lighting, and wedding gown studios. And other locations.
Benefits of The Lightbox
Our

Fabric Aluminum Profile LightBox

is small in size and lightweight.

Threaded pins allow them to be installed in walls without the need to drill holes.

They are clean and eco-friendly.

This device is very robust and has a long support life.

High quality and fair pricing.

The aluminum fabric lightbox is both thin and energy-efficient

The lightbox uses

LED technology

which is very bright with low power consumption.

LED lights

have a long lifespan.

You

can easily mount your aluminum fabric lightbox

to any wall with its mounting hardware, and they are also easy to maintain
Final Words
Utilize the material to the fullest extent possible, the backlight's propagation properties are excellent, the light emission intensity is high, and the light distribution is more even and normal. We offer high-quality fabric lightboxes. The lamp is simpler and quicker to replace due to the quick-opening style. Kindly place your order to have your sturdy fabric LED lightbox do the magic for your business!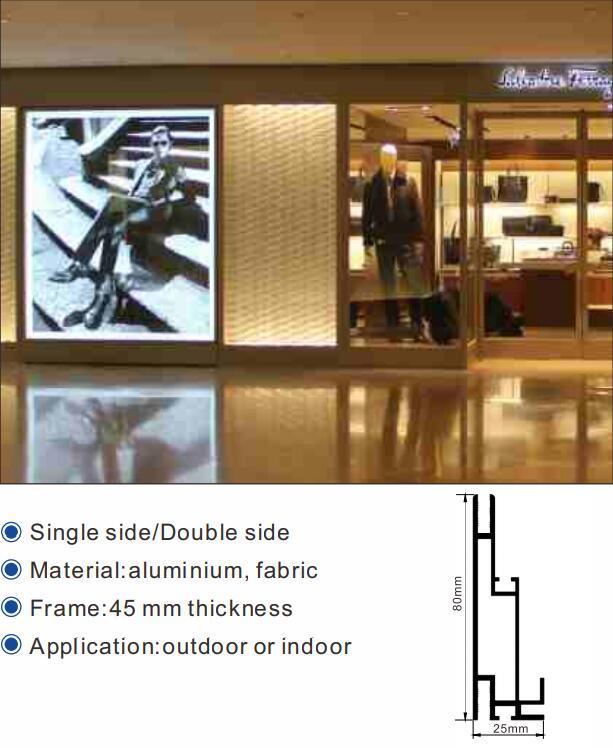 Contact with us Get Free Samples