Magnetic/Snap Open LED Frame with Edge Light Technology
The Snap Open LED Frame – the perfect solution for your display needs. With its sleek and modern design, this frame will instantly enhance the appearance of any space. The Snap Open feature allows for easy access to change your display content without having to remove the frame from its position. The LED lighting provides bright and even illumination, ensuring your content is showcased in the best possible light. Constructed from high-quality materials, the Snap Open LED Frame is built to last and withstand even the most demanding environments. Its durability is matched by its ease of use, making it perfect for both personal and commercial use. Choose the Snap Open LED Frame for a professional and sophisticated display that is sure to impress.
movie poster light box
led light box frame
led poster frame
backlit poster frame
light up poster frame
snap frame led light box

Magnetic/Snap Open LED Frame with Edge Light Technology
13 Years' Factory Experience / OEM & ODM Accepted
UL/cUL (E523796) listed and CE SAA/C-Tick Approval
(Click The Picture and Then Jump to Detailed Product)
AL2228

Magnetic Frame / Single Side

Frame:22mm/0.86" thickness

AL1520

Snap Frame / Single Side

Frame:15mm/0.59" thickness

AL2130

Snap Frame / Single Side

Frame:21mm/0.82" thickness

AL2230

Snap Frame / Double side

Frame:22mm/0.86" thickness
Features for LED Frame:
【Product Name】- Magnetic / Snap Frame Design for Easy Graphic Changes
【Certifications】- UL/cUL Listed (E523796), CE approved
【Illumination】- Single Sided or Double Sided
【Color Temperature】- Available from 2700K to 9000K
【Frame Size】- Custom Sizes Up to 48 x 96″ (1200 x 2400mm)
【Ultra Thin】- Unlike Common Bulky Frames, Smallest of Our Light Box Frame is Only 0.59" / 15mm Thick. Lightweight and Easy to Move, It Can Be Displayed and Mounted in Any Preferred Area Without Hassles.
【Available Colors】- Black or Silver
【Materials】- Aluminum
【Display】 - Graphic Vertically or Horizontally on A Wall or Hanging on Other Flat Surface
【Convenient to Use】- All of Our Back Lit Picture Frames Can Be Mounted Easily on Any Type of Wall. Taking Them Down is Just As Easy.
【Heavy-Duty and Built to Last 】- Instead Of Using Generic Poster Frames, Use Our Durable High-grade Aluminum Frame.
【Lighting System】- Highlight SMD LED Light Source with Backlit Laser Engraved Dotting Light Guide Plate.
【Acrylic Panel】- The Lightbox Adopts Side-guide Lighting Design, Using Newest Optic Quality Acrylic Panel, Which Distributes Light Evenly
【Easy To Install】- Quick Installation, Wall Mounted. Open Front Border to Take Out The Front Acrylic Panel,Easy Change the Poster.
【Switch Control Power】- UL Class 2 or LPS or CE Approved DC12V Power Adapter, Can Custom With Switch Control Turn On And Off, Can Use for AC100V-AC240V, So It Suitable Global Country, and Very Safety.
【Power Cord】- 104" Power Cord with 5.5 X 2.1mm Barrel Connector
【Dimmer】- Compatible with Dimmer Accessory if Needed
【Fast Delivery】- 7-10 Working Days Production Time.
【Graphic】- Poster Included If Needed
【Automatically Draws Attention to Your Ads/Promotions】- These Frame Light Boxes Are Ideal for Indoor Use. Take Advantage of Their Visibility to Attract Customers to Your Menus, Ads, Movie Posters, And More.
luzleddisplays more than 13 years professional manufacturing lighted poster frames,

we are factory sales, good cost support with good service.

Menu Board Display

LED Backlit Menu Display

Fast Food Reastaurant Display

Restaurant Menus

Upgrade your restaurants with the use of backlit restaurant menus, or showcase your favorite dishes.

Shopping Mall Advertising

Promotion Item Display

Cloth Store Display

LED Sign Holder

Catch the attention of your custome

rs with advertisements in brightly lit displays.

Flyers

Home Decorative

Photo Frame

Family Photo Display

You have the freedom to advertise the way you need. Hang up fliers or artwork in these glass displays, or prop them up on the table.

Movie Poster Frame

Movie Poster Frame

Backlit Light Frame

Showcase the beauty and colors of your movie posters without worrying about running nonstop electricity with our cost-effective LED light boxes.
Corners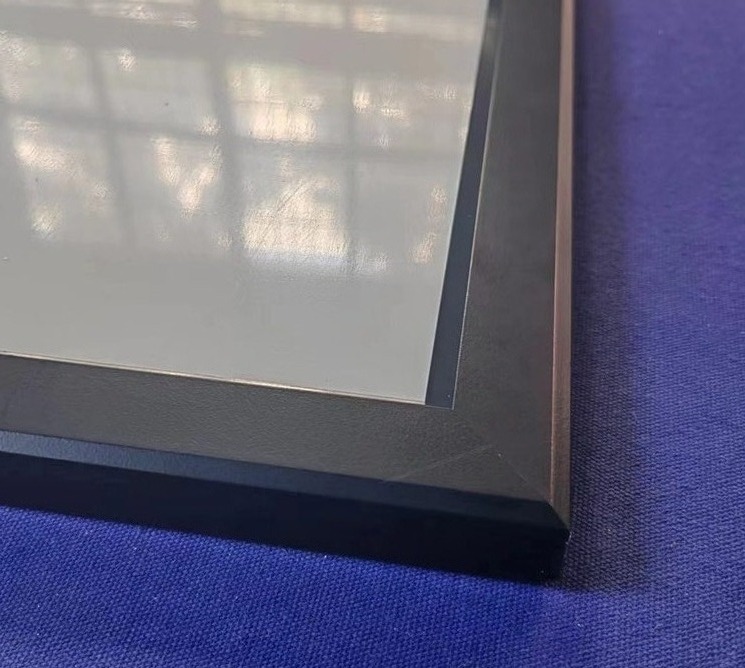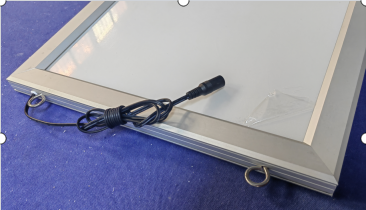 Snap Open & Close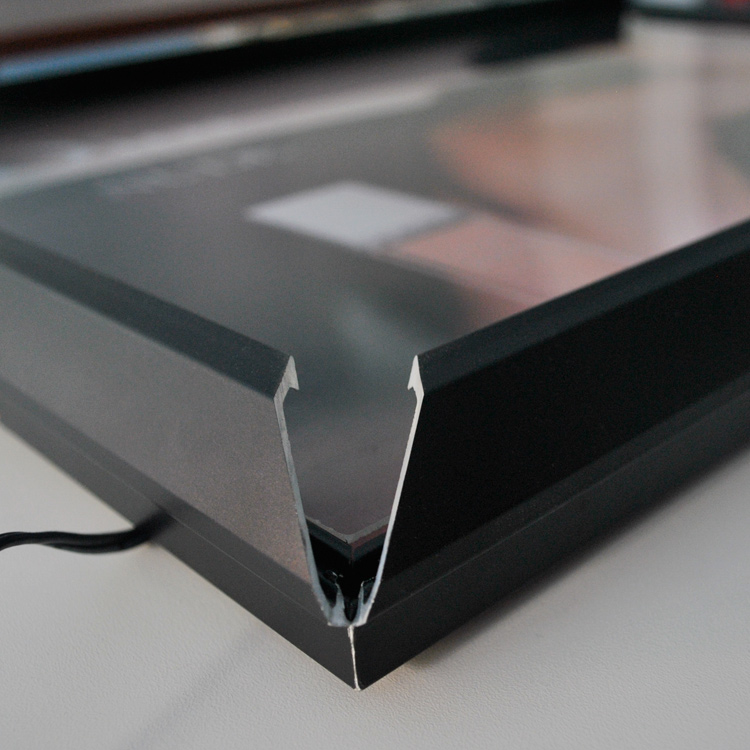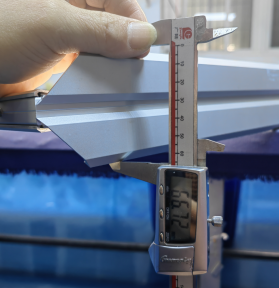 Magnetic Open & Close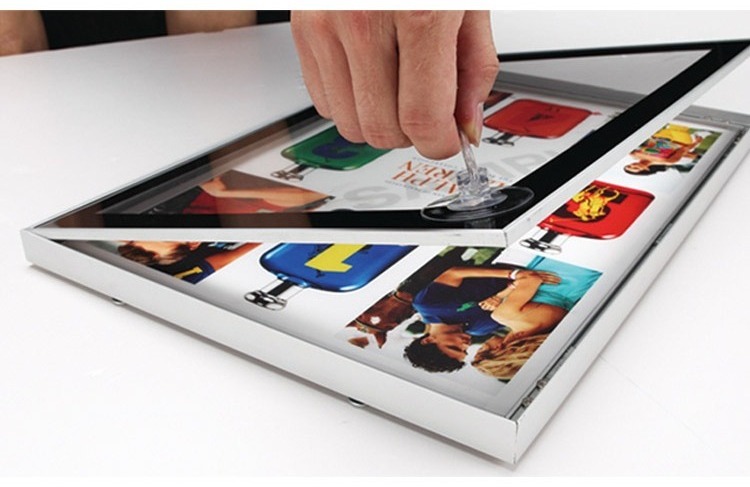 Commercial Wall Mount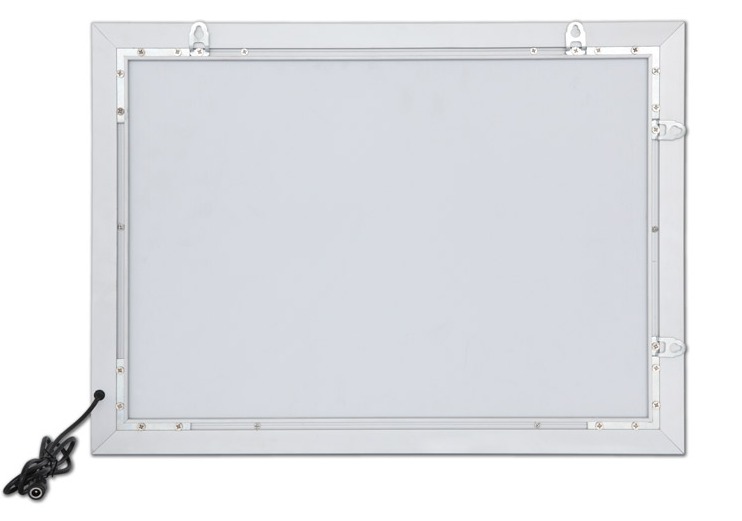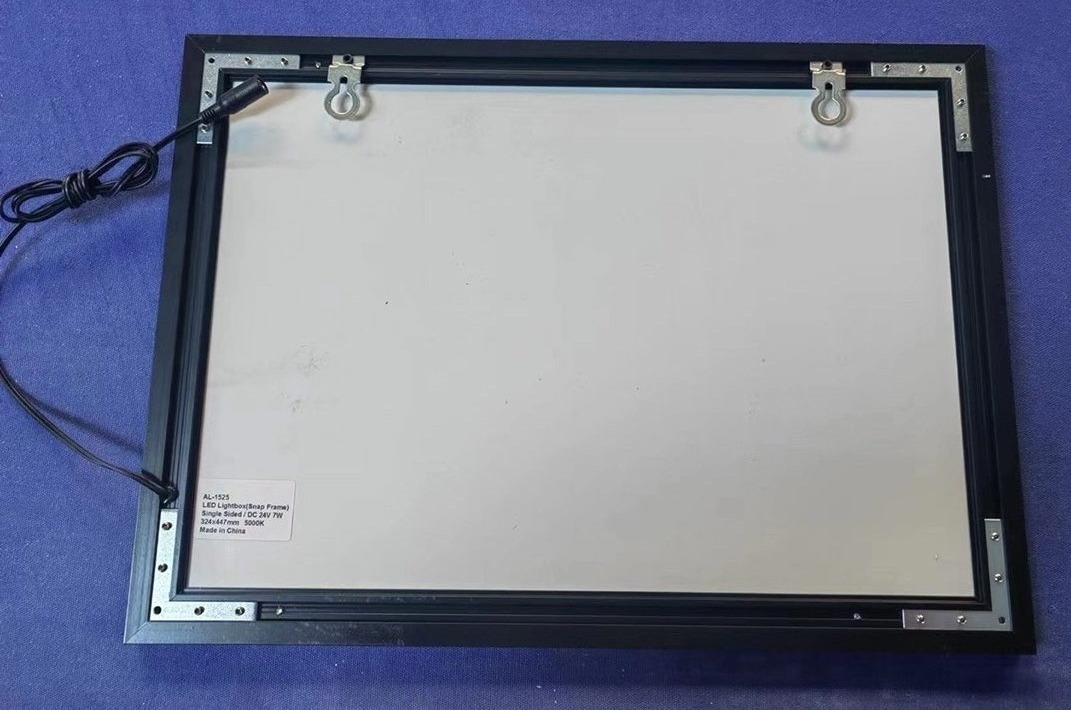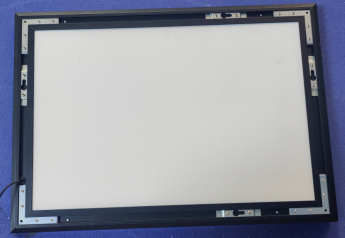 Commercial Hanging System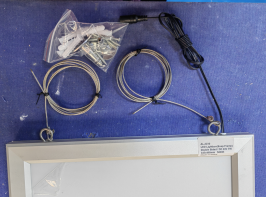 Details for LED Frame:
Custom Size LED Snap Frames

Dimension (mm)

Dimension (in)

LED

Power Consumption (W)

A3 (297 x 420)

11.70 x 16.53

2 long sides

13.60

A2 (420 x 594)

16.53 x 23.38

2 long sides

19.24

A1 (594 x 841)

23.38 x 33.11

2 long sides

27.24

304 x 304

12 x 12

1 long side

9.84

406 x 507

16 x 20

2 long sides

16.42

457 x 609

18 x 24

2 long sides

19.73

507 x 609

20 x 24

2 long sides

19.73

558 x 711

22 x 28

2 long sides

23.03

609 x 609

24 x 24

2 long sides

19.73

609 x 914

24 x 36

2 long sides

29.61

609 x 1219

24 x 48

2 long sides

39.49

685 x 1015

27 x 40

2 long sides

32.88

761 x 1015

30 x 40

2 long sides

32.88

914 x 1219

36 x 48

2 long sides

39.49

914 x 1828

36 x 72

2 long sides

59.22

1219 x 2438

48 x 96

2 long sides

78.99
A backlit poster frame use advanced lighting technology to display your photos, artwork, and other items in the thinnest profile possible. This type of light box is perfect for displaying photos in offices, galleries, homes, theaters, malls, entertainment venues or any other place where you want to show off your work. LUZ can also make lighted poster frames as vary large size to suitable for use in train stations, airports, and casinos as semi-permanent fixtures.
Easy-to-use snap open / magnetic open aluminum led box features a slim profile, edge-lit LED lighting with a simple snap-frame design that allows you to quickly change out the contents of the box. The LED lights provide a even and bright illumination that makes your photos look their best. The frame also helps protect your items from dust and dirt while still allowing them to be seen clearly.
Light up poster frames are more expensive than comparable fluorescent units because they use LED lighting, which is more energy efficient and longer lasting than fluorescent lighting. The basic Technology used is more costly to produce. Additionally, lighted movie poster frames are typically designed to be more aesthetically pleasing than fluorescent units, which can add to the cost.
You can choose to mount these backlit movie poster vertically or horizontally in hanging or wall-mounted versions. black and silver or customized frame color are accepted according to your projects. They are also available in various sizes to meet different needs. UL/cUL (E523796) listed and CE SAA/C-Tick Approval.
Relative Products: (13 Years' Factory Experience / OEM & ODM Accepted / UL/cUL Listed, CE Approval)
Solar Powered Light Box

Freestanding & Pole / Wall-mounted

Snap Frame LED Light Box

Snap Frame & Magnetic Frame

Fabric Light Box Frame

Freestanding & Wall-mounted & Ceiling

Backlit LED Panel

Framed & Frameless & RGB, RGBW, Dimming
Are you tired of settling for mediocre LED products that don't live up to their promises? Look no further!
You won't be sorry you did, this is a premium lighting product that you won't want to miss!
Free Samples Available!
Contact with us Get Free Samples